For the second time in six months, my office is empty again and ready to begin renovating / redecorating. I'm a tad embarrassed to admit I have not yet finished this project. Remember when I first mentioned it
here
?
Yikes...
In hindsight, I'm actually glad I didn't finish this project immediately after starting. I have come to realize I didn't know exactly what I wanted to do with this room. I had intended to add a desk in the closet and leave the room as an office with a small bed if I needed space for company.
Since then, I've come to realize I'd benefit more from a craft room than an office. The likelihood I would sit at the desk and work is about one in twenty. This led me to wonder why I was going to invest money and time to makeover a room I would barely use. A craft room, on the other hand, would come in far more useful.
Currently, my craft projects end up spread across the kitchen counter, and I used to do my scrapbooking on my coffee table. I haven't scrapbooked in a year though, because I don't like getting everything out and having to pack it up again. It's one of those hobbies I enjoy in small doses, but having a space to spread everything out and leave it would be far more valuable in my house.
This led me to start hunting for some ideas...
I love the blue cabinet in this photo. The colour fits right in with palate I'm planning
.
I have a large patio door to deal with in this room, and I couldn't help but notice the huge window in this room. I love how it drowns the room in natural light.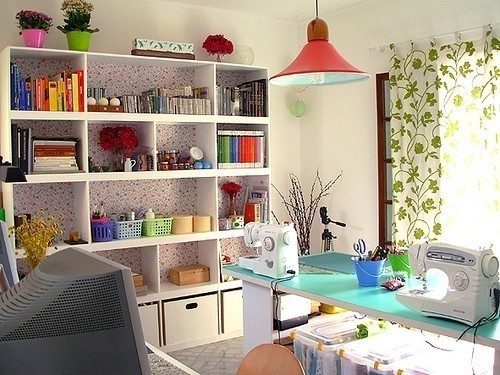 Then, I flipped through my collection of home magazines, and came across a "working den" in House and Home's March 2007 edition, very similar to the photo below from their website. I love the randomness of the round table. It would give me ample space and flexibility to do crafts or scrapbooking. The shelving also could put supplies close at hand, but out of the way.
So many options! I am getting closer to a plan though, and I have started some floorplans. I'm using floorplanner.com . With the exception of a hiccup placing windows and doors, it's been pretty intuitive. Look for some floorplan options soon!
In the meantime, does anyone else have craft room photos or tips to share?